August 26, 2020
Posted by:

Afzal

Category:

Blog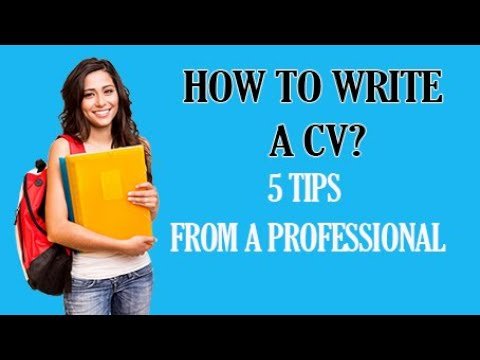 Curriculum Vitae or resume is the essence of a professional. You present yourself by yourself by your CV. It is the way how you market yourself that how to write a CV. All the components of the CV should so well be structured that you are able to convince the employer why you're eligible for a certain job. It should be convincible enough that the employer thinks you're the perfect fit for the job employee he's looking for. It should be able to create a lasting impact on the person who needs to hire someone. Even if you think you will have better job candidates as competitors, just a good looking CV would be enough to attract the hirers. The consistency and formatting of the resume make it attractive. It is the cherry on top of your good personality and a fine interview. Let's take a look at the factors that determine a well-written CV.
CV Is What and Who You Are
When you begin writing a CV, first of all, you need to write your basic information and contact details. Your full name and your email address or contact number are the basic components. Please make sure you put in your official name and the correct contact details. This is how the company will contact you. Next is your introduction; that represents who you are. Quote down the best words that describe you. What type of character you have and what morals you value the most. The easiest way to write an introduction is to analyze yourself and see what ethics you wish to find during your job. The last line of the introduction should explain your dedication and commitment to the job you take. It shouldn't be more than a small paragraph long; just a few lines. The ending of your CV should be based on a precise conclusion explaining why you see yourself fit for the job you're applying to.
Main Components that Attract the Employer's Attention
The first and foremost is the work experience you list down in your CV. When you start your career journey, you should be vigilant enough to avoid frequent job switching. When an employer sees frequent switching they believe you're a rolling stone and this makes the very first bad impression. At least, one job experience should entail an experience of one year. Avoid repetition of experience. Also, avoid the listing irrelevant experience. Now comes your achievements and awards. All the things you think makes you excelling from others and any experience of projects that makes you prominent and be mentioned in this section. You can make a separate section for your honors and certificates. A section of courses that are useful to the job can also be added. Also, include the skills before you conclude your CV. Skills determine how you will move about your job. It actually describes how you will be tackling the tasks, the challenges, and the team under you. Last but not the least, do not forget to format and align all the points you write in your CV. There are a lot of templates available on the internet that can make your CV attractive!